Welcome
How do I login?
I've logged in. Now what?
What else can I do in MyBCC?
FAQs
MyBCC User Policy
Welcome
Welcome to MyBCC
MyBCC is our Church Management Software (ChMS) provided by Pushpay. Through MyBCC you can connect to others, join groups, sign up for events, explore opportunities to serve, as well as manage your privacy and communication preferences. MyBCC includes tools for leaders and helps your staff better steward the most valuable resource at our church…people like you!

How do I login?
How do I login?
The MyBCC login is located on the right side of the bottom menu on this page (or any page on www.burkecommunity.com).
If this is your first time logging into MyBCC, sign up by clicking HERE. You will be taken to a simple form you can fill out to request a login.
If an email match is found in our system, we will send you a login activation email with your new username and a link to set your password. After activating your profile, you can log in to change your username and/or password. If no email match is found, a message will be sent to the administrator, who can send you an email with your username and activation link.
Once you have your username and password you can login any time from www.burkecommunity.com on your personal computer, tablet or mobile device. 
I've logged in. Now what?
I've logged in. Now what?
Just four easy steps will help you get started in MyBCC.
1. Customize Your Profile (Profile→Edit Profile)
When you click your initials in the top right corner of the screen you will be taken to your profile. Here, below your name, you will see the "Edit Profile" option.

Click on "Edit Profile" and begin to customize your profile and add all the information you want. We encourage you to at minimum include the following:
Your Contact Phone (We encourage you at a minimum to include your mobile phone number. You may also hit the "+" symbol and add a home or work number as well.)
Your Email Address (You can only have one email in the system…make sure it is your preferred email address.)
Your Address (This is your primary mailing address, but you can add home, work, and other)
Upload a Profile Picture (Closeups are best as it will help others recognize you and know who you are. You can also easily add a profile picture using the Church App.)
2. Customize Your Privacy Settings (Profile→Actions→Privacy)
When you click the "Actions" button on your profile you will see the "Privacy" option.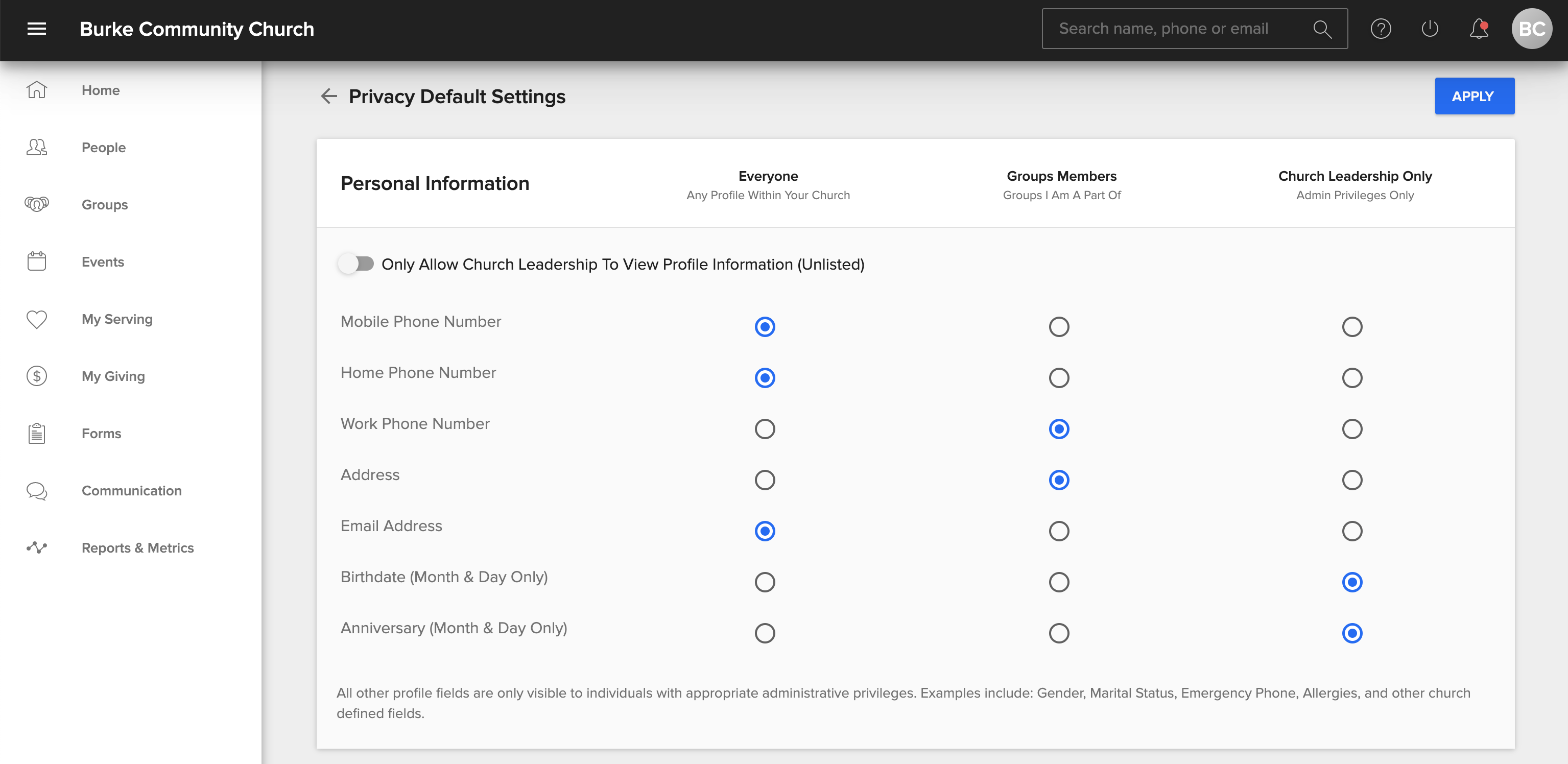 Here you can choose who will have access to your information. Please keep the following in mind:
Default settings have been selected to maximize community and connection…we encourage you to use them
You information is secure and is NOT available to the public
You can change your privacy settings at any time
Note: People who are new to the church and new to MyBCC are by default set as Limited Access Users. This means they do not have access to people information. We do this to maintain a higher level of security with the personal information of our congregants. If you cannot see people but are plugged into the church (in a group or class, giving regularly, or have attended for more than 3 months) email us at [email protected] and request full access.
3. Join a Group or Two (Menu→Groups)
On the right side of the Sunrise Central home page you will see an area called "My Groups".

This lists the groups you are a part of. You will start off in at least one group (Entire Church Group).
Want to join more?
On the left side of the screen in the main menu you will see the link named "Groups". Here you can explore the 200+ groups that exist at Burke. Many (Sunday Classes, Men's Ministry, etc.) you can join any time. Others (Life Groups, High School, etc.) you can request to join. Use the search bar to explore group options and connect to one(s) that will help you take the next step in following Jesus. It's worth the effort to get connected, they will be one of your main resources for community and growth.
4. Customize Your Communication Preferences (Profile→Actions→Communication Preferences)
From your profile, when you click on "Actions" you will see the "Communication Preferences" option.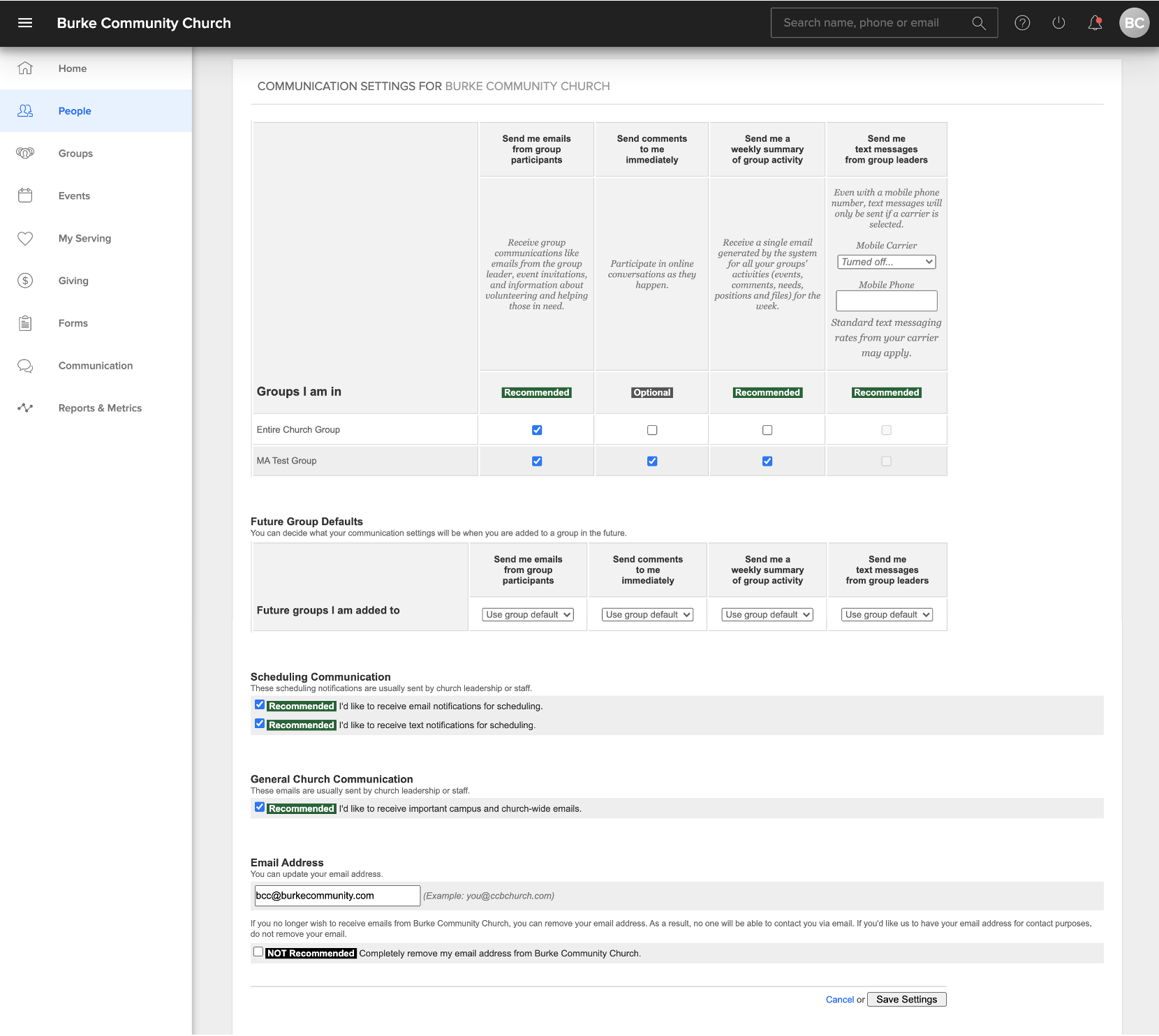 Here you can choose your email and text message options. Take a look at the option descriptions and choose the ones that are best suited for you. 
Note: These Communication Preferences only apply to messages sent through MyBCC. The church also communicates through email distribution lists. To update your email subscriptions, fill out the form at burkecommunity.com/emails.
What else can I do in MyBCC?
What else can I do in MyBCC?
Here are some of the things you can do in MyBCC:
Send an email to that person you met on Sunday (Menu→People)
Share a personal need or prayer request with your group ("Your Group"→Needs)
See upcoming events in your group ("Your Group"→Calendar)
See your giving history and download your giving statement (Menu→Give→History)
Sign up for a class, event, or even to get baptized (Home→Forms)
See all events for every group you are in (Events→My Calendar)
FAQs
Who is MyBCC For?
MyBCC is for those involved with (or wanting to be involved with) Burke Community Church in Burke, VA. This includes individuals and families who attend our events, watch online, use our Church App, and subscribe to our emails.
How secure is MyBCC?
In short, very secure. Pushpay has gone to great lengths to protect your information. Your personal information is not available to the general public, nor is it available to individuals who are new to MyBCC (Limited Access Users). For the nitty-gritty details on MyBCC security click HERE.
How will my information be used?
The information you provide will be used to connect you to Burke Community Church in the ways you desire (see "I've logged in. Now what?" to edit your Profile, Privacy Settings, and Communication Settings). At no time will your information be made available to the general public or a 3rd party vendor.
Do I need a certain kind of computer?
Because MyBCC is web-based, all you need is a web browser and internet connection on your computer. A high-speed internet connection is highly recommended, but not required. Newer web browsers may work better.
How do I…?
Most of your questions are answered on the Pushpay Support Page. If you need additional help please contact us at [email protected].
What is the difference between MyBCC and the Church App?
Put simply, the Church App is a simplified version of MyBCC. The app also features some of our website and media content. To learn more about the Burke Community Church App visit burkecommunity.com/app.
What do I do if someone is misusing the system?
We take your security seriously. If you believe someone is abusing their participation in MyBCC please contact us immediately at [email protected].
MyBCC User Policy
User Policy
The goal of MyBCC is to foster connection and clear communication at Burke Community Church. We want to make it a positive and safe experience for everyone. By participating in MyBCC you agree to the following policy:
You will not use MyBCC for business purposes, political campaigning, or solicitation of any kind.
You will not give out personal contact information without prior consent. Burke Community Church is dedicated to handling private information with proper care and confidentiality.
You will not send unnecessary or unrequested emails/messages (i.e. jokes, stories, petitions, video clips, etc.) through the system.
You will strive to create a positive and healthy online community within MyBCC. Group messages, etc. are not to be used for venting or negative comments. Threatening or disparaging others will not be tolerated.
You will not participate in MyBCC if you are not involved in some capacity with Burke Community Church.
Failure to adhere to this policy may result in becoming a Limited Access User (LAU) or removal from the system.